If you've ever wondered what a week in white-sand paradise is like, schedule a stay at Mauna Kea Resort on the Big Island of Hawaii.
The resort consists of two hotels that were once separate resorts but now operate under one umbrella. They're the
Mauna Kea Beach Hotel
and the recently refurbished
Westin Hapuna Beach Resort
, which are located near each other on the Kohala Coast. Both of these luxury hotels have their own beach and both have an outstanding championship golf course.
You can spend a full week at this fantastic resort and never leave the premises. And in addition to the beach and golf courses, there are multiple swimming pools, a seaside tennis club, fitness centers, a spa, and nine restaurants that offer fine dining and casual venues.
Below are a few ways to spend a week at the Mauna Kea resort in Hawaii.
Relaxing at the beach
The Mauna Kea Resort is ideally situated for guests to get the most enjoyment out of the beach and ocean as possible. Each hotel has its own beach, the gently curving Mauna Kea Beach and the longer, straighter Hapuna Beach. Every conceivable activity is available, including sailing and paddling outrigger boats.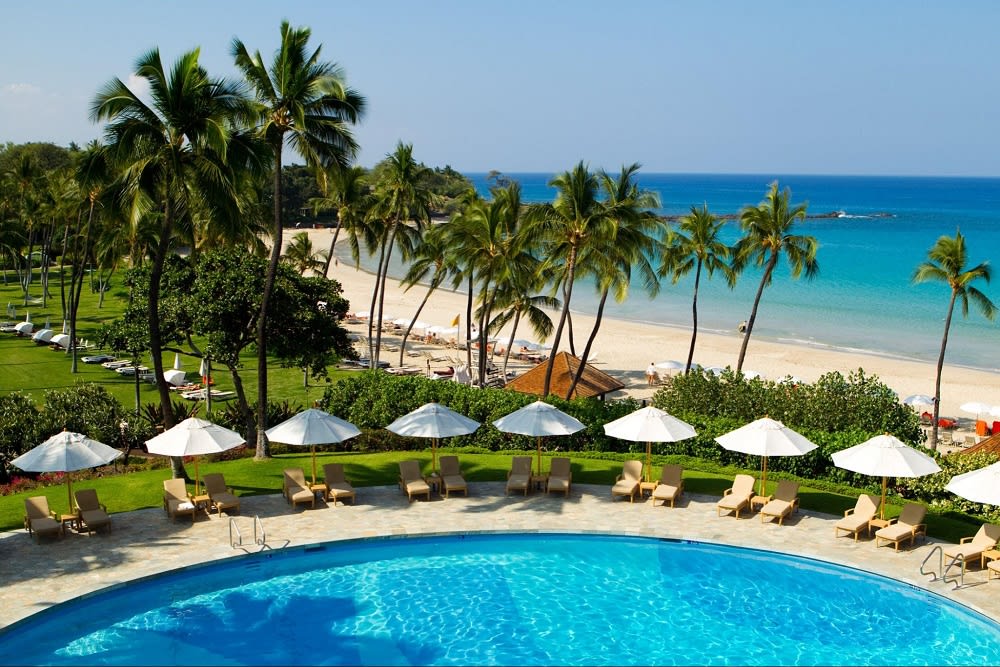 Photo Courtesy of Bloomberg.com, Mauna Kea Resort
The Mauna Kea Beach Club is there to ensure each and every Mauna Kea guest enjoys the beach in comfort. They offer luxury services such as padded chaise lounges, umbrellas, cabanas, and beach towels. Some of these amenities require a fee, and the Mauna Kea Hotel rents equipment such as boogie boards, prone boards, stand-up paddleboards, kayaks, and snorkeling gear.
Hapuna Beach is the longest white sandy beach on the Big Island. There's a snorkeling spot called Turtle Point, where guests can see everything from reef fish to sea turtles. There are also plenty of lounges and umbrellas where guests can simply relax and enjoy one of the most beautiful resort settings in the world.
Multiple golf courses
Hitting the links at Mauna Kea's two championship courses isn't limited to guests. People who buy Mauna Kea Resort real estate can play these two courses whenever they please. Each course offers stunning ocean views and remarkable golfing.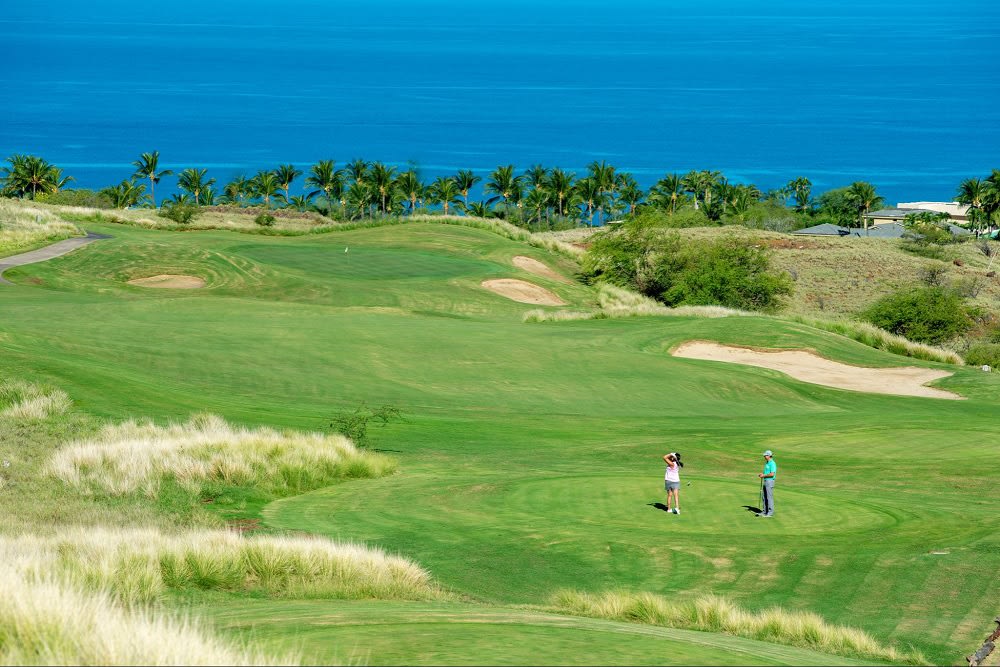 Photo Courtesy of Flight Bridge, Hapuna Golf Course
Hapuna Golf Course
There's a good reason the
Hapuna Golf Course
is loved by golfers from around the world: it was designed by Arnold Palmer and Ed Seay. The course challenges golfers with an elevation change from sea level up to 700 feet in the rugged terrain above the coast. The lush greens and fairways are as easy on the eyes as the views of the blue ocean and the palm trees swaying in the breeze. The ocean view is best enjoyed from the signature par 4, No. 12 hole, which at just under 700 feet above sea level offers a view of Maui off in the distance.
Mauna Kea Golf Course
Mauna Kea Golf Course
has won many awards since it opened in 1964, and it's easy to see why. The course has set the standard for golf in the Aloha State since Robert Trent Jones Sr. turned what had been a barren black lava field into one of the most beautiful courses anywhere on the planet. The verdant fairways flow over seaside cliffs, giving golfers unrivaled views of the water and the coast. The greens are elevated and undulating, testing golfers' skills. The course's signature hole is No. 3, which requires an accurate tee shot over an ocean inlet.
Photo Courtesy of Hawaiian Beach Rentals
Other activities
There are many other activities at the Mauna Kea Resort for both guests and residents who have purchased Mauna Kea homes for sale. They include tennis, a spa, and, of course, dining with amazing views.
Located just feet from the crashing surf, the Mauna Kea Beach Hotel's
Seaside Tennis Club
features 11 courts and is widely recognized as one of the best places to play in the world. The tennis club has a well-stocked pro shop that also offers rental gear. The resort provides lessons and clinics and often hosts round-robin tournaments.
The Mandara Spa
is a feature at both the Mauna Kea Beach Hotel and The Westin Hapuna Beach Resort, offering guests the unique combination of Balinese and Hawaiian therapies. The full range of services includes massages, body treatments, skin care services, and aromatherapy. There is even a couples' suite with balneotherapy. Additionally, guests can visit the Mauna Kea Salon at Mauna Kea Beach Hotel for hairstyling, manicures and pedicures, makeup, and even bridal services.
Mauna Kea Restaurants
With so many restaurant options available, you won't need to leave the resort grounds for the duration of your stay. Both hotels have fine dining and casual dining options in various settings overlooking the ocean, the golf course, and swimming pools. Try a traditional luau and many other Hawaiian favorites using locally-sourced ingredients.
Mauna Kea Real Estate
If you fall in love with the area while staying at the Mauna Kea Resort, you should consider purchasing Mauna Kea Resort real estate. The resort is surrounded by some incredible oceanfront estates and luxurious homes that line the fairways of the golf courses. These remarkable homes, which offer every amenity under the warm Hawaiian sun, can range in price from $4 to $14 million. If that is above your price point, there are other Big Island communities that are very beautiful that
Hawaii Luxury Real Estate knowledgeable agents
can help you to discover.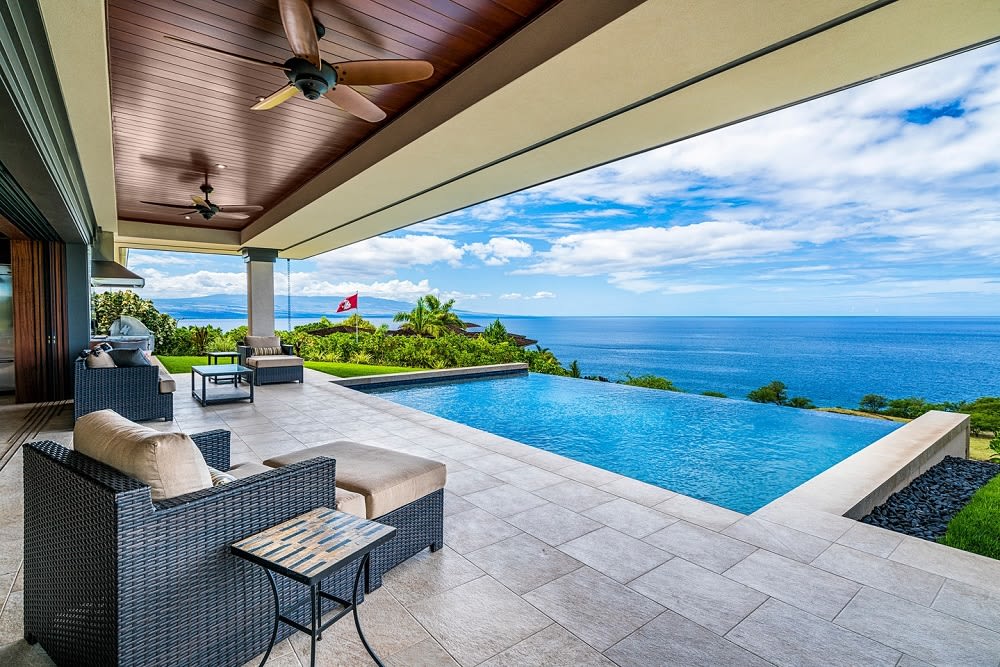 In the meantime, a stay at Mauna Kea Resort will provide an unmatched experience of enjoying everything paradise has to offer. You can try something new every day. And when your stay comes to an end you'll wonder, how can I find a way to live in Hawaii or how can I buy a piece of paradise.Once you've decided that it's time to shop for Mauna Kea homes for sale, the first step is to find a licensed real estate agent who has extensive experience helping clients purchase luxury properties. You'll no doubt have high expectations for the kind of homes available at this price range, and our
talented agents at Hawaii Luxury Real Estate
will assist you to find your dream home.
Interested in Mauna Kea Homes for Sale?
*Header Photo courtesy of Booking.com